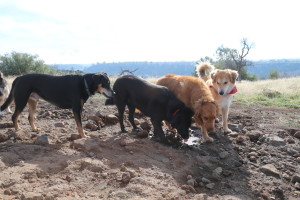 These are 5 of Sadie and Rusty's favorite things which also make great Valentine Day gifts:
Take them out for a walk most dogs love to explore new places. It gives them a chance to get some exercise for both their mind and body.
A new toy – there are so many to choose from. If you are stuck indoors due to the weather you may want to try a puzzle toy which can help to stimulate their brain and body when a walk is not possible.
Hide and Seek – this is another great way to spend the day if you are not able to get outside. Take a toy hide it and have your kids find it. Sadie and Rusty love this game and will play until I run out of hiding spots.
A new bed – dogs spend a great deal of their time sleeping. It makes sense to have a good quality bed for them to lay on. Rusty and Sadie love their P.L.A.Y bed and their West Paw bed.
Treats – most dogs love food! I like to give my kids banana pieces, baked sweet potatoes, or anything made from The Honest Kitchen.
There are a few ideas for ways to treat your pooch on Valentines Day! What are your favorite ways to spoil your pup?